Bay and bow windows come in the shape of an arc made up of a series of windows (single-hung, double-hung, or casements) aligned to create more living space of different sizes. Bay and bow windows protrude outside of your home structure and give you a wider view of the outside (i.e. backyard, front yard, etc.) They can have an 180 degrees range of sight from the inside of the home. Besides allowing more light and air to the inside, bay and bow windows offer a lot of combinations that can be used to extend living rooms, kitchens, bedrooms, study rooms, and more.
The main benefits for homeowners
It increases the asking price of their homes.
It adds more living space of many styles for many uses.
It provides an unobstructed view to the outside with more decorative appeal.
Excellent air ventilation and exposure to light.
More storage space.
The differences between bay and bow windows
Number of windows used.
The most immediate difference between bay and bow windows is the number of glass panes that are aligned. A bay window consists of a series of three windows, while a bow window can be made up of four or five.
Light receptivity.
The bow window is generally thought to let in more natural light as well as more air because it has more glass and all of its windows are typically operable.
Style.
A bow window has more of a curved outline because it has a greater number of angles. A bay window has one large fixed window (aka picture window) in the middle with two operable windows on either side. Its design is more friendly towards an additional glass pane to be placed on top because of the fewer angles involved.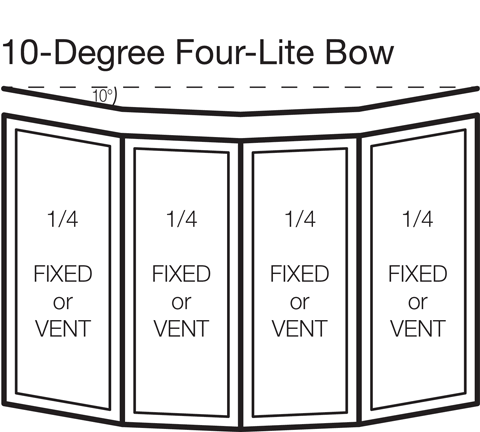 Maintenance.
Bay windows are a lot easier to clean from the inside for the obvious reason of fewer glass lites. Bow windows have more exposed glass that are likelier to break.
Indoor space.
Bow windows allow for more window and seat combinations than bay windows because they create a wider indoor space.
Range of sight.
Bay windows give you a wider range of sight to the outside. Bow windows could give you a wider range of sight only if they are built at the corner of the home structure, allowing you to see two sides of your home.
The differences between bay and garden windows
The main difference between bay and garden windows is that garden windows are built more exclusively to promote indoor plant growth. Bays, on the other hand, can be used as garden windows but aren't exclusively built for gardening purposes. Another difference is garden casements are a lot faster, easier, and cheaper to install than bay casements because they're smaller in size. However, bay casements dramatically increase the value of your home more so than garden ones. Another huge perk with bay casements is that they allow for a window-and-seat combination to be used as a study desk, a comfortable seating area, storage space, and more. Garden windows fall very short in this regard.
Both windows are wonderful additions for a home. Even though bay windows are pricier, they can be a much better investment that pays for itself in the long run.
Bay/bow windows are family friendly
Bay and bow windows come in many sizes. Most of them reside over the kitchen sink, which is convenient for the parent cleaning the dishes as they get to see their child/children play outside with a wide view of what's going on.
Promote plant growth
Apart from it being a family oriented addition to a home, a bay or bow window also makes an excellent growing space for indoor plants. Bay and bow windows are ideal for plants because they allow abundant natural light and air ventilation. With access to the outside world within the comfort of your own home, your sunflowers, lilies, or jasmines will grow healthy and happy.
More living space
The opportunities are endless with these wonderful additions because of their ability to take on any size with the proper support. If you're going for a particularly large bay or bow window addition, make sure that supporting beams are put in place during construction so the house doesn't settle and produce cracks after the fact. Homeowners can exploit the fact that kitchen renovations and upgrades increase the value of a home by using bay/bow window additions. A smart idea, for example, is to extend the area of the kitchen with a bow window fitted with a series of single-hung windows and a row of fixed windows on top.
Other ideas of expanded living space with bay/bow window and seat combinations include:
Kitchen or living room upgrade - A dining table extension from the kitchen or living room.
Study room - A study desk extension where the ledge of the bow/bay window is used as a mini bookshelf.
Leisure space - A wide seat loaded with pillows and cushions for comfortable downtime and storage compartments built underneath.
Special occasions - There's nothing more inviting and celebratory to the spirit of Christmas than a family Christmas tree placed in the middle of a bay and bow window living space.